OK, there is a more than a bit of hubris in that title, but this is my blog and I'm just screwing around for now, especially with this post. Actually, I don't have time to be making this post, which is exactly why I am making this post. My brain is dumb. No, no. Not like that. I'm actually pretty smart by almost any measure, except for that thing where you look at a flat diagram and have to determine what kind of 3-D shape it would fold into. I suck at that.
Anyway, procrastination is my name and ADHD is my game, or vice versa. So, here we go, no pictures no meta data, no SEO, not much content. I'll do all that later… maybe… if I get around to it.
Don't hold your breath.
Vampire Missionaries
The reason we are gathered here today is someone sent my high schooler a joke about Transylvania University reaching out like all of those other mailers we have been getting since the day she score decent enough (pretty impressive actually) on the PSAT test that high schools in Colorado have their students take so they don't have to waste everyone's time on some sort of other standardized test (see also: CMAS, I'll spare you my rant, but someone is getting rich off of that and it ain't the schools).
Anyway, it triggered my memory of the greatest vampire joke of all time. This tweet is from 2018. It seems to be the original. I give you Vampire Missionaries.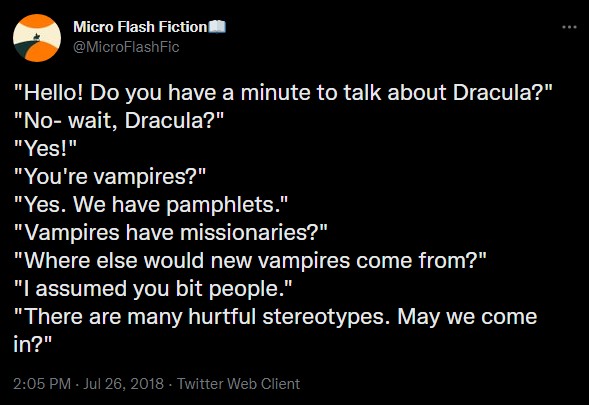 Turk Lipsyncing and Dancing to Poison from Scrubs
This is so much ha-ha funny as just glorious and fun. It's actually hilarious if you watched the show and knew the characters. I'm putting it here anyway. It's from Season 5 Episode 9 of Scrubs titled My Half-Acre which isn't the greatest episode, but for this scene? Worth it.
The Bet From Friends
There were a lot of bets in Friends, but the one I remember and love is when Chandler and Joey bet Rachel and Monica about who knows who better and Ross makes up a Jeopardy-style game show to determine the winner.
I'm in a hurry and it looks like YouTube videos come in 5-minute segments or whatever, but here is the meat of the scene. From Season 4 Episode 12.
If you know the show this scene is outrageously hilarious.
"Transponster!"
This cuts off the first part of the game, so you are missing Chanandaler Bong. Go search for the first part if you've got some extra time.
Actually, here you go. I set it to start at 2:30, otherwise there is some setup. Your call.
Alright. I'm going to get back to work for now. I'll be back. I'm sure I'll think of more funny stuff when I'm supposed to be working.